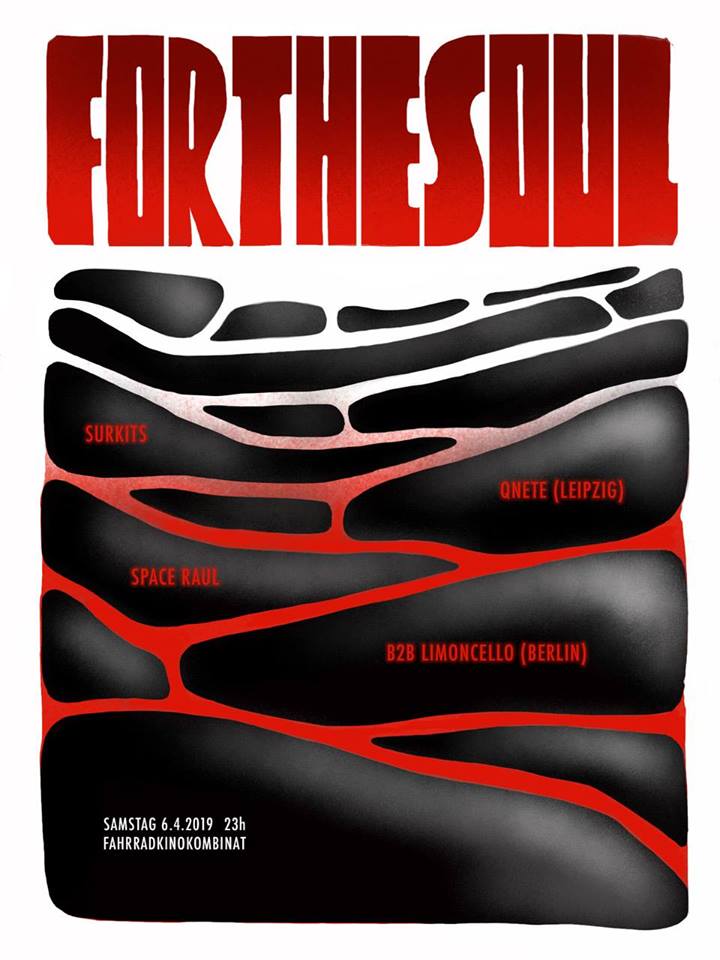 For The Soul w/ Qnete, Space Raul, DJ Limoncello, Surkits Disco
House, Techno
Samstag 06.04
23:00
Party
ForTheSoul lädt ein zum vergnügten Tanz und wird diesmal beehrt von einem passionierten DJ-Quartett aus Berlin/Leipzig.
Mit dabei in unserem Supertrumpf-Luxus-Klasse-Quartett, Qnete (Leipzig). Bestechend durch Innovation und Neuschöpfung vereint er diverse Sounds in seinen Sets, ebenso spiegelt sich das in seinen Produktionen. Letztes Jahr kam mit Play-Doh Stories das erste Album auf 777 Recordings, zudem Veröffentlichungen mehrerer EP´s und Singles und bei Drowned Records mischt er auch noch mit. Qnete hat Bock und wir sind gespannt welchen Trumpf er hier ausspielt.
Get lost in the sound of Space Raúl (Berlin)! Schwebend, sphärisch, glänzend, funkelnd, rauf und wieder runter und weils so schön war gleich nochmal…for all the outta space dancers.
DJ Limoncello (Berlin), der Name ist Programm! Frisch, fruchtig und süß mit säuerlichem Abgang, pur oder ne ganze Torte, ein Genuss der bitte bitte nicht endet. Zusammen mit Space Raùl werden die Karten an diesem Abend neu gemischt.
Surkits (Berlin) spielt lieber 4 gewinnt und das mit 2 Turntables!!
Einigen hier noch bestens in Erinnerung stattet er Kiel mal wieder einen Besuch ab, Plattentasche im Gepäck, also gilt wieder "free your ass and your mind will follow"
Wir freuen uns auf einen schönen Abend im Dschungel des Fahrradkinokombinats mit euch, kommt vorbei und bringt eure Freund*innen mit !
Respect the venue and eachother!
No racism! No sexism! No harassment!
Please talk to the personal behind the bar if you noticed something
Eingetragen von: FKK