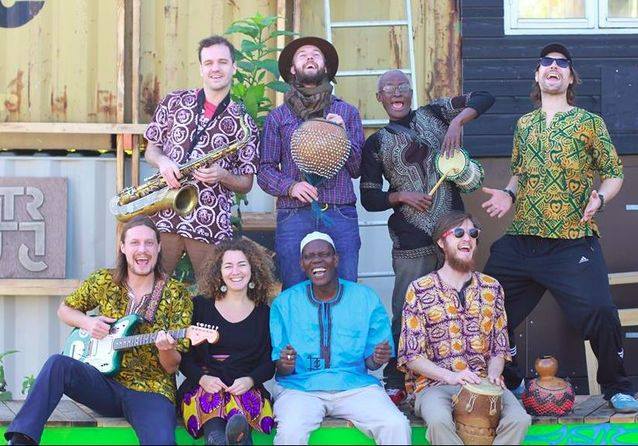 African Connection - abgesagt -
"The music of Africa is big sound: it's the sound of a community" Fela Kuti
Samstag 27.10
19:30 - 23:00
Konzert
— Das Konzert und die ganze Tour von African Connection ist leider abgesagt. —
Die EU verwehrt den Musikern aus Ghana die Einreise nach Europa. Die Begründung der Behörden ist menschenverachtend und ekelhaft.
Hier gibt es eine Stellungnahme von der Band und dem Label.
Es gibt Dinge, um die kommt man nicht herum, wenn man sich ernsthaft mit Musik auseinandersetzen möchte. Das eine ist Jazz und das andere der Einfluss Afrikas auf den gesamten Kosmos populärer Kultur. Fela Kuti sagte einst: "99.9% of the information you get about Africa is wrong" und ich kann nicht verhehlen, dass ich keinerlei konkrete Vorstellungen über die Menschen, welche auf diesem Kontinent leben, habe. Ich sehe Bilder im Fernsehen, welche ich nicht einordnen kann. Diese Bilder sind fast immer geprägt, von Krieg, Krankheit, Hunger und Tod. Diese Bilder
sind fast immer so angelegt, dass sich unsere "westliche" Wahrnehmung über diese Menschen erhebt. Und dann höre ich den Sound Afrikas und dieser ist so reichhaltig und fröhlich, dass er wahrlich mit diesen Bildern kollidiert und sie ad absurdum
führt. Den Mitgliedern der dänischen Band Junglelyd haben diese Bilder ebenfalls nicht gereicht und so beschlossen sie, 2016, mit dem ghanaischen Musiker Atongo Zumba in deren Heimatland auf Tour zu gehen. Die Chemie, die sich nach einem Monat auf der Straße zwischen der Gruppe entwickelte, war so stark, dass daraus
ein neues Projekt, eine neue Zusammenarbeit entstand. Dieser gab man den Namen African Connection und um diese auszubauen beschloss man den Aufenthalt zu verlängern und gemeinsam zu musizieren. Royal Drum Master Okyerema Asante stellte der neu gegründeten Band Räume und Aufnahmefläche
zur Verfügung, um gemeinsam zu proben, voneinander zu lernen
und aufzunehmen.
Es folgten gemeinsame Konzerte und Aufnahmen in Dänemark, bei dem auch große Teile des Album "Queens and Kings" entstanden. African Connection, deren Mitglieder aus drei verschiedenen Kontinenten stammen, sind vereint in ihrer Idee von Musik und verbinden ihre Erfahrungen, um etwas Neues zu schaffen. Diese Form des gleichberechtigten Umgangs miteinander und Kooperation hat nicht nur ein phantastisches Album hervorgebracht, es zeigt auch, dass Kunst in der Lage ist Grenzen zu überwinden und diese verschwinden zu lassen. Und das dieses wichtig ist, zeigen die politischen Entwicklungen der letzten Jahre. – Gregor Samsa // Sounds of Subterrania
http://www.africanconnectionband.com/
http://www.soundsofsubterrania.com/www/label/africanconnection/index.php?pg=Bio
Infos zum Album "Queens and Kings" (SoS 175)
African Connection wurden 2016 von Musikern aus Ghana, Amerika und Dänemark gegründet. Wie sollte es auch anders sein, ist ihr Sound inspiriert von Fela Kuti, Pionier des Afrobeat und nicht nur in Nigeria eine Legende. Ihr Schlagzeuger, Frank "CC YoYo"
Ankrah, spielte mit Fela in den 80er Jahren und war Student von Tony Allen.
Die muttersprachlichen Lyrics von African Connection stammen von allen drei ghanaischen Mitgliedern der Band und behandeln unterschiedlichste gesellschaftliche Themen. Neben den Songs
thematisiert auch der Titel des Albums "Queens and Kings" die Rolle der Frau und ihre Unterdrückung. Musikalisch verbinden African Connection Highlife, Funk, Afrobeat, Rock'n'Roll und westafrikanische Traditionen miteinander und bieten somit eine signifikante und moderne Interpretation und damit auch Erweiterung des Genres.
http://www.soundsofsubterrania.com/www/label/africanconnection/index.php?pg=Records#rec482
Eingetragen von: FKK