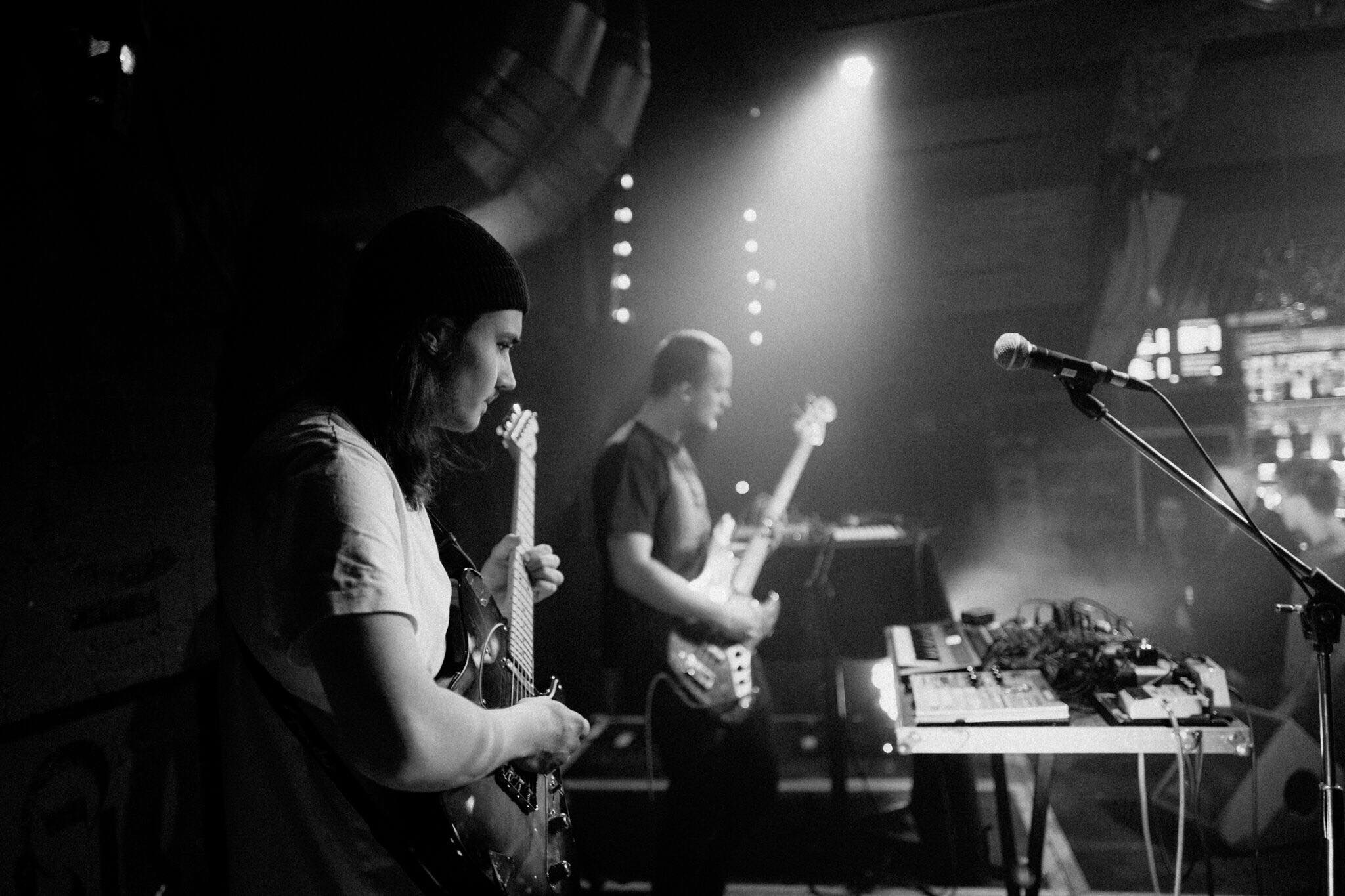 Drink, Drank, Funk
mit: bxris bekka • Plusma • Ebbe Funk • DJ Pfeffer • Jona Gold • 83 concerts DJ-Set
Samstag 14.09
21:30 - 4:00
Clubkonzert, Konzert, Party
83 concerts – die Konzertgruppe, die am meisten Bock auf Party hat, stellt ihren Titel hiermit unter Beweis und lädt feierlich ein zu…:
D R I N K . D R A N K . F U N K
mit: bxris bekka • Plusma • Ebbe Funk • DJ Pfeffer • Jona Gold • 83 concerts DJ-Set
Einlass: 21:30 Uhr
Start: 22:00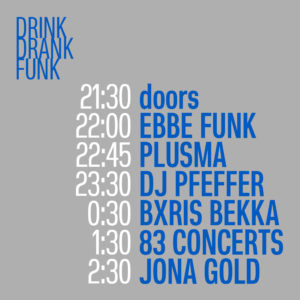 INFOS UND LINKS:
BXRIS BEKKA (live) • Funk, Breakbeats • Flensburg
bxris bekka sind Alex Becker und Boris Maschmeyer. Funky Break Beats, die sich aus Elementen verschiedener Genres bedienen und live mit Bass, Gitarre und Synthesizern umgesetzt werden.
bandcamp: https://bit.ly/2J8VeNg
PLUSMA (beatset) • Lofi/Beats • Hamburg
plusma kommt aus Hamburg und ist Gründer des Kollektivs raw.suppliers, welches Beatmaker und Produzenten verschiedenster Spielarten vereint. Freut euch auf einen groovy Mix aus Lofi-Beats, Jazz und BoomBap.
bandcamp: https://bit.ly/2cKhbB5
EBBE FUNK (beatset) • BoomBap/Beats • Kiel
Ebbe Funk aus Kiel bastelt Beats. Seine Einflüsse reichen von Jazz und Soul bis hin zu cheesy 80's Funk gespickt mit 808-Drums. Keep it real!
bandcamp: https://bit.ly/2M0yUsx
DJ PFEFFER • Afrobeats • Kiel
DJ Pfeffer lebt in Kiel. Sie spielt "Afrobeats from Massamá to the world via Luanda. Slow beats to make your body shake." Woohoo!
JONA GOLD • For The Soul • Kiel
Playing soulful records. Ihm haben wir nicht nur schwingende Tanzbeine, sondern auch das ForTheSoulRadio und die gleichnamige Partyreihe zu verdanken.
mixcloud: https://bit.ly/333Bwvv
83 CONCERTS DJ-TEAM • Wave, Shoegaze, Indie, Punk • Kiel
Hey Punx, keine Sorge. Für euch haben wir auch das ein oder andere Schmankerl. Freut euch auf die "Konzertgruppe, die am meisten Bock auf Party hat", die euch wavy irgendwas um die Ohren hauen wird.
Eingetragen von: 83concerts